Climbing in Sardinia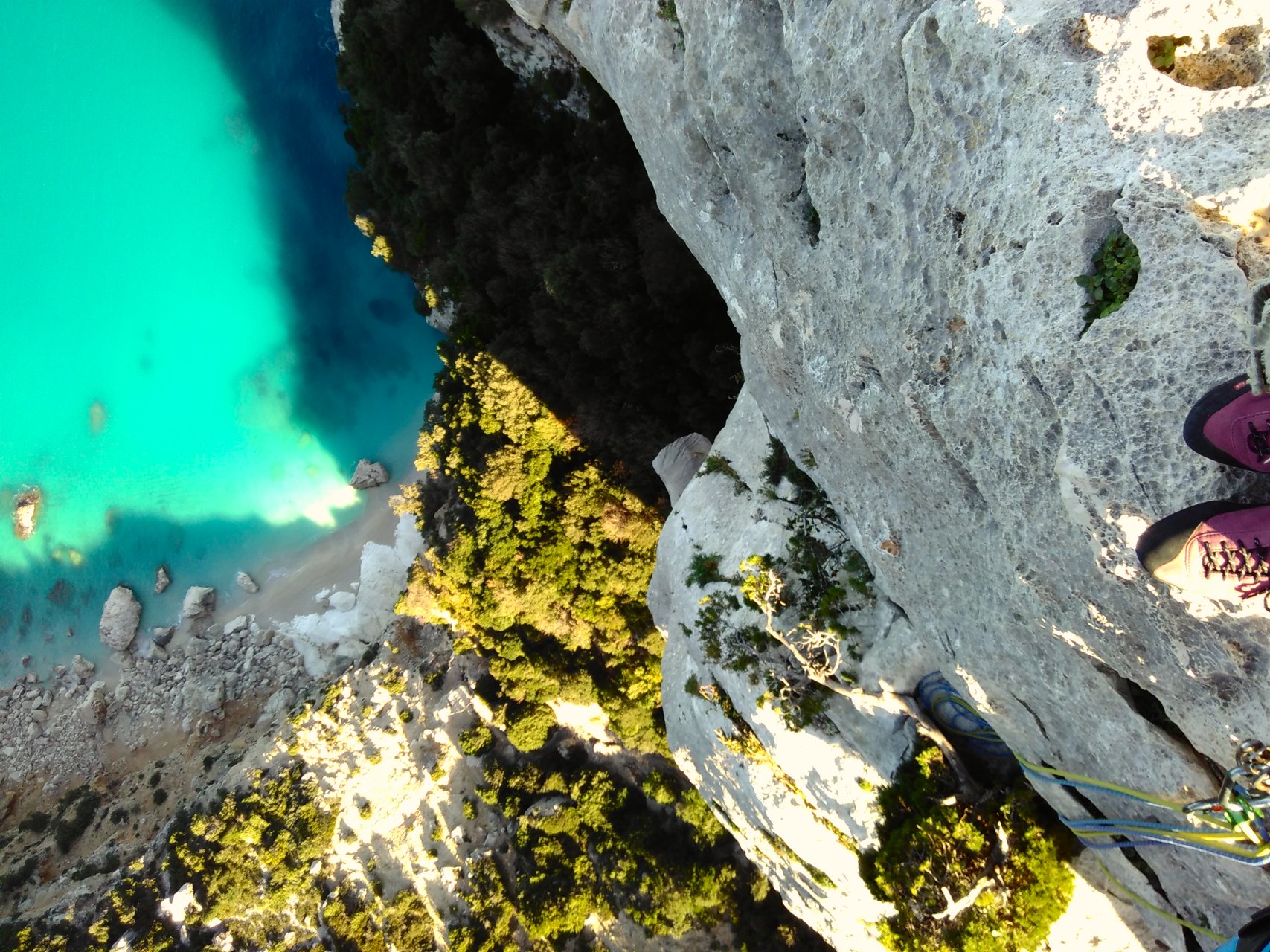 As I have already mentioned in Climbing and jumping "Dillosauro", we did a trip to Sardinia over New Year's to go climbing and BASE jumping. Altogether I can only recommend this, at least as long as you have a camper to sleep in or friends to host you. You should definitely have a car to be able to roam around the island. There are several climbing guide books available for the island. We had two guides by Maurizio Oviglia, one for crags and one for multi pitches and trad climbing. There is so much to do, I will not even write about all the spots we went, but rather mention the most memorable parts for us.
BASE Jumping in Cala Gonone
First, we visited Cala Gonone, which is great for slab climbing or athletic overhung climbs in the caves along the coast. There is something for every difficulty. In the first days, the winds were way too strong to even think about BASE jumping, so we focused on climbing. But once the wind had finally dropped, I went for the best looking piece of rock in the cliffs above Cala Gonone which I could see. However, once I was up there, the wind had picked up again. At least, it was still alright for the static-line jump I had in mind. Everything went as planned and I was happy about my first jump of the trip. 🙂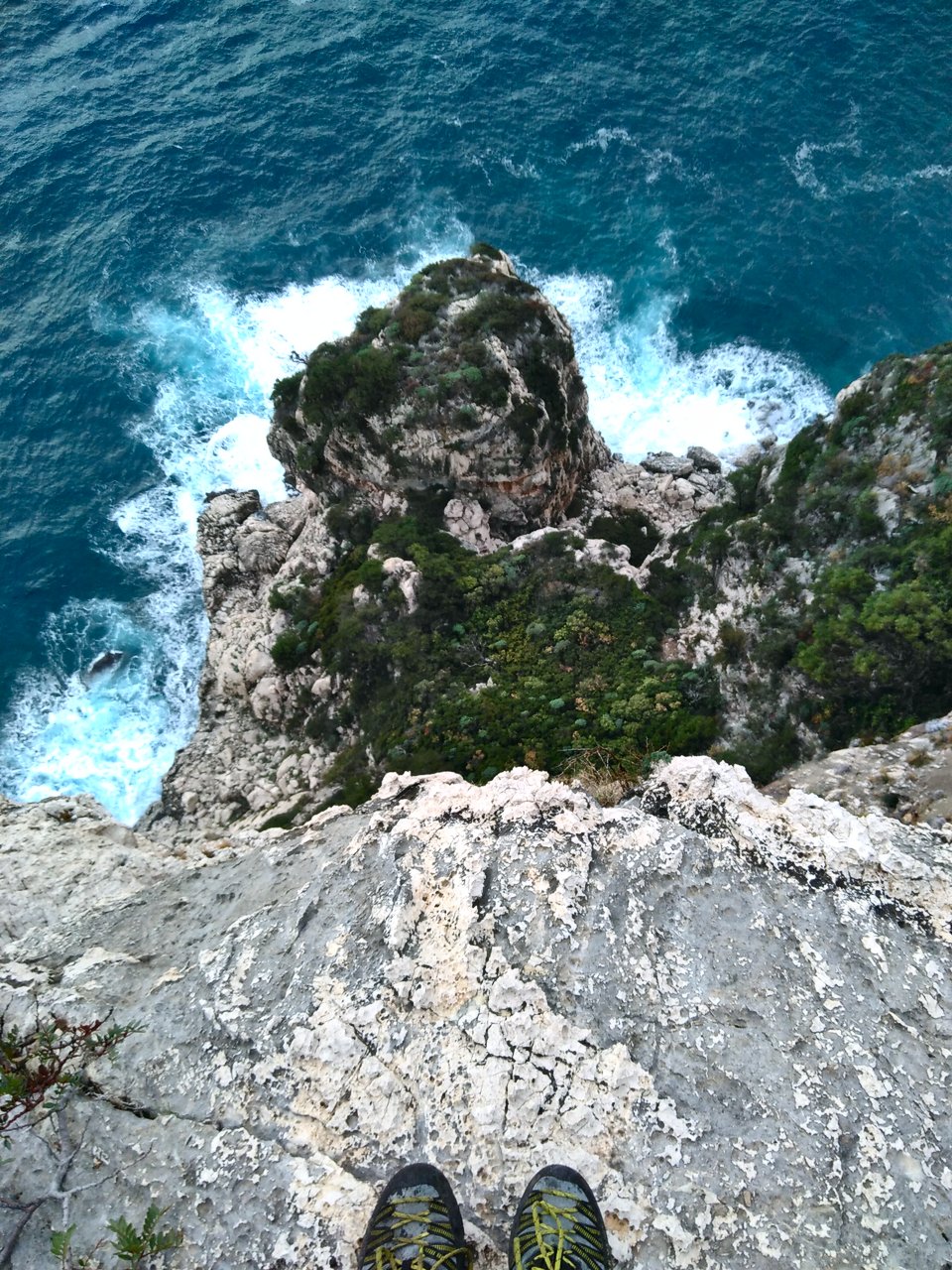 After the jump I started scouting the next possibilites. I did a hike along the coast below the cliffs in the north of Cala Gonone. It was an impressive walk, with the cliffs on one side and the wild ocean on the other. I ended up finding two possible exit points which were both around 70m high. The next morning I hiked along a dirt road at the top of the cliff in order to find an exit. I quickly realized that this would be much harder than expected. The way from the road to the cliff edge was steep and heavily vegetated. So I decided to choose the exit which was higher up the cliff – so less of a hassle to get down – but with an advanced landing.
The jump was a special one. There was a heavy swell and sea gulls flew below my exit. And most of all, I couldn't even see my landing zone. But the conditions were good, so I couldn't see a reason not to jump. It was a so called "Go & Throw", you jump and almost immediately throw your pilot chute. I wanted to open high, to be able to reach my landing zone. In the end, I ended up a bit short and landed on the boulders, which worked surprisingly well. This is definitely a jump to remember.
Baunei & Jurassic Park
Our next stop was Baunei, which is a little bit further to the south. And once again there are plenty of climbing options to choose from. First of all the famous Aguglia di Goloritzé, which I climbed together with Chris. Furthermore, not far from Baunei, there is also Punta Giradili a prominent rock face with long multi pitch climbs to the top. However, since the weather didn't allow a full day of climbing, I rather hiked up in the morning and flew down with my wingsuit, making my first wingsuit jump of the trip.
At the end of our trip, we went even further to the south, close to the city of Tertenia. Between Tertenia and Quirra, there is a hidden gem along the coast called "Jurassic Park". A 70 meter granite wall with a small spire directly next to it. A more detailed write up can already be found here. But in general both of us really enjoyed climbing in this unique location above the ocean in perfect granite with plenty of grip.
And here is the video including the BASE jumps and some climbing.