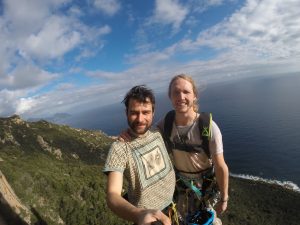 For this new year's, we decided to go climbing in Sardinia. And it was a great idea. Despite the fact that it's not very tourist friendly (closed camping sites, closed restaurants, etc…) it's a great idea to go there to flee from the cold in central Europe. And to be honest, we enjoy less touristic places anyways. We stayed for around three weeks and this is just one little quick edit of a fun idea I had.
We found out about a spire at the east coast of the island which becomes pretty thin at the top. So my idea was to climb it and afterwards jump down. The route is called Dillosauro and consists of two pitches. A 6b/c dihedral/crack climb and another 6b to the top of the spire (although to us the second one seemed easier than a 6b and was just more exposed).
The day before, my friend Chris and me spent most of the day in our van, since it was raining a lot. We were reading and constantly checking the weather report. We even hiked to the spot to make sure we find it the next day.  On the way back we were hit by some heavy rainfall though, which didn't lighten up our mood. Due to all the preparation we were actually much more excited about the climb than we would usually be. So that might be a reason why you can hear us "woohh" a lot on the video 😀
Since everything went perfect, we even had enough time to climb another route up the whole 70m granite wall. A perfect finish for our holiday!