The Watzmann east face and the weather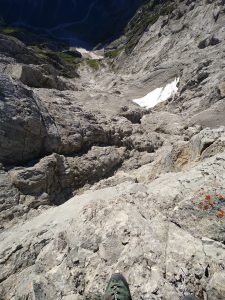 In my last post Wingsuit jump from Watzmann Hocheck I already described how the whole story evolved. So I already went up to the top of Watzmann and found an exit point, but one reason why I wasn't able to jump was bad weather. Now, to have more margin for error on a rather challenging exit I was waiting for the right weather conditions. I was waiting for little to no wind or wind from the east and no clouds. Such that the morning sun could heat up the east face and create some thermal lift. So I was curiously following the weather forecast, waiting for a calm and sunny autumn day. And such a day eventually arrived, but it was a Saturday. So the Watzmannhaus (a mountain hut) was booked out and I had to hike the whole 2000m of elevation gain in one go before the jump again. But since there wasn't any pressure by the weather this time, I didn't have to rush to the top and I was still feeling quite fit, when I reached the peak. Furthermore I already saw birds soaring on the east side of the ridge on my way up. That definitely brightened up my mood. I didn't even get stuck in the traffic jam of people trying to squeeze over the ridge of the Watzmann. And when I reached the exit point, I could feel a slight breeze coming up from below and I started preparing myself for the jump in a good mood.
Getting lost in the moment
New exits are always exciting. You never know how the environment will look like once you jump off. And you also don't know which line you will choose once you are really flying. Especially on long flights it's easy to get totally lost in the moment. You just fly from one obstacle to the next and you could keep on going forever. And that was almost a problem on this jump. My planned landing zone was already so far away, that I wasn't sure if I could still reach it. So I decided to land next to the lake at a small clearing. My canopy, however, turned out to be a bit bigger than I thought and it caught on some branches when I was just about to land. Although it wasn't a textbook landing, it was just a small flaw of an otherwise beautiful and successful adventure.
Germany's longest wingsuit BASE jump?
From the exit to the landing it was more than 2000 meters in height difference. And therefore it was my longest wingsuit BASE Jump in Germany. I assume that no one else has done a longer flight than this either. Only at the Zugspitze there might be a possibility for a longer flight, but considerably boring, straight away from the mountain. And you would have to jump from the viewpoint platform (I already measured it…), which the operators probably wouldn't endorse either. So until then, the jump from the Watzmann Mittelspitze remains my (or even the) longest and most beautiful BASE jump in Germany
Video: Wingsuit jump down the Watzmann east face